Vision Therapy in Galesburg and Monmouth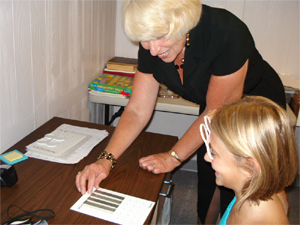 There is much more to eyesight than seeing 20/20. For many people, reading and eye-hand coordination tasks can be very difficult. The act of sight not only includes ones eyes, but it also includes the neurological activity that processes the visual information. Vision therapy is a highly effective, non-surgical treatment used to retrain the way the eyes and the brain work together. It can be an effective treatment for many common visual problems such as lazy eye, crossed eyes, double vision, eyestrain and blurred vision when reading, eye hand coordination problems, and vision related learning disabilities.
Vision and Learning
Binocular Vision Impairments
3D Stereo Vision
General Resources
An eye doctor answers questions about Vision Therapy in an interview.
A general catalog of vision therapy success stories
Optometric Organizations